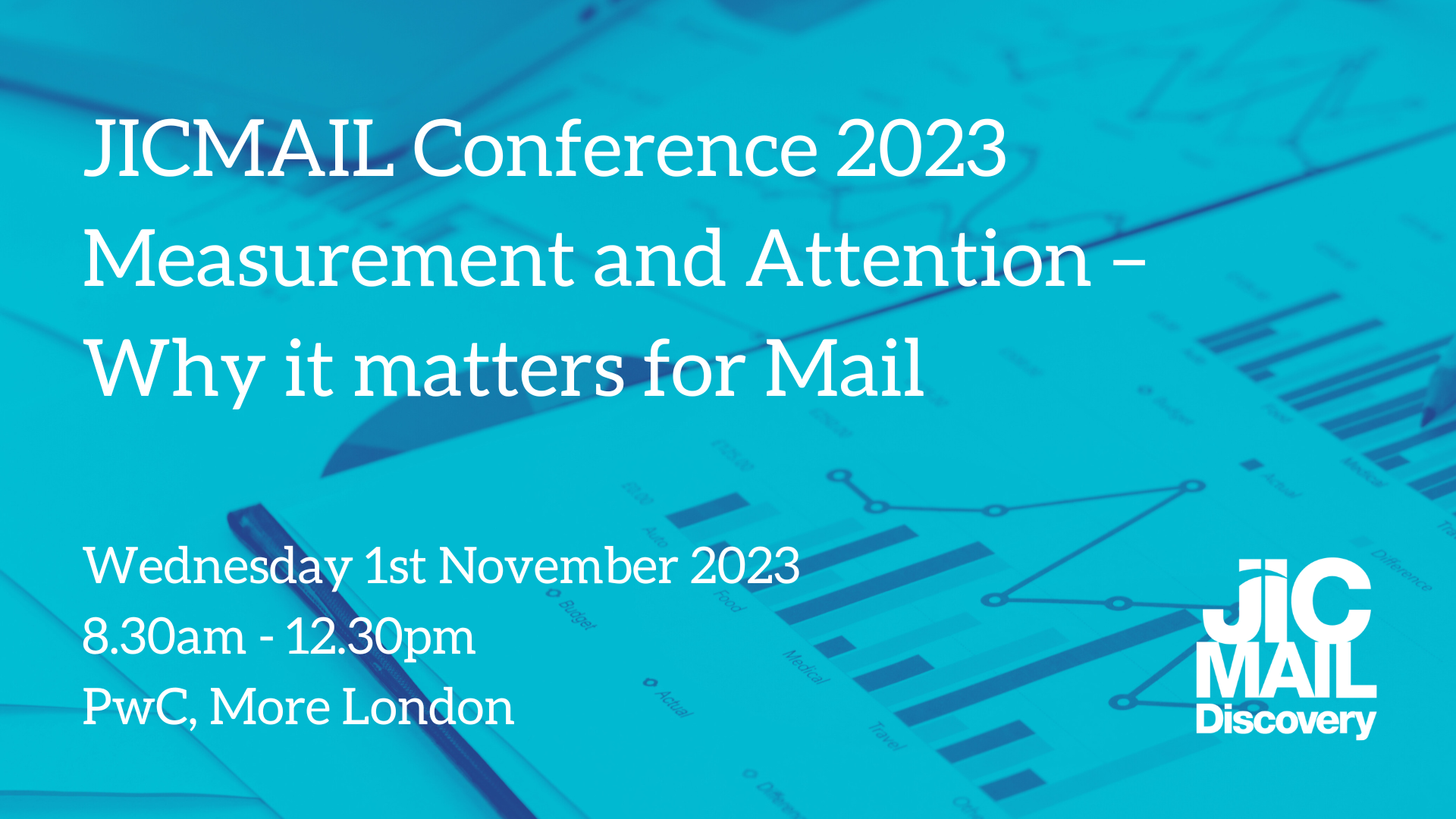 Thank you to all of our Partners, Subscribers and Stakeholders who were able to join us for our Annual Conference, hosted for a second year by PwC. We brought together practitioner leaders and experts who shared their views, provided practical steps to close the gaps in measurement and helped establish an agenda for attention-based planning with mail.
Building capability around full effect measurement is a critical success factor for marketers in today's environment but as complexity increases and data proliferates, charting the journey to effectiveness becomes increasingly challenging. Supporting users in this quest inclusive of our industry data is a priority for JICMAIL. At the same time, attention has emerged as one of the industry's hot topics, as brands ultimately compete for a share of people's attention with an imperative to better understand its place on the journey to effectiveness. 
At this year's Conference, we explored the implications from the results of our Attention study, 'The Time We Spend With Mail', and assessed the planning implications. We looked at the latest updates for data privacy and showcased more outstanding case studies using JICMAIL, featuring the latest test and learn approaches that attendees could take into their own work.
Presentations from the JICMAIL Annual Conference 2023
Welcome & Year Highlights
Mark Cross, Engagement Director, JICMAIL
Keynote address: The drivers for successful marketing services into 2024
Jenny Biggam, CEO, the7stars
Taking Measurement Forward: A Practical Guide
Ian Gibbs, Director of Data Leadership & Learning, JICMAIL
Chris Love, Head of Marketing Performance & Econometrics, Virgin Media 02
The Outlook for Data Protection with 
Mark Cross to chair:
Catherine Dunkerley, Director Data Trust, PwC
Chris Combemale, CEO, DMA
Discovery 3.0 - Launching the new JICMAIL Discovery
Ian Gibbs, Director of Data Leadership & Learning
Attention and Effective Planning - Roundtable Panel Discussion
Mark Cross to chair:
Amanda Griffiths, Marketreach
Brian Jacobs, BJ&A
Ellie Gauci, VCCP
Stefan Schoombee, Havas Media
JICMAIL Best Practices Showcase - Four demonstrations of how JICMAIL practitioners derive value from JICMAIL
Gemma Mitchell, MD, Paragon
Neal Dodd, MD, The Letterbox Consultancy
Rowena Humby, CEO, Starcount
Luke Boulton, Account Manager, Bountiful Cow
Closing Panel - Guests reflect on key conference takeaways into 2024  
Chaired by Clare O'Brien, Head of Media, Effectiveness and Performance at ISBA
Jenny Biggam, the7stars
Chris Love, Virgin Media 02
Rowena Humby, Starcount
Lucy Swanston, Nutshell
Bonus Workshop: Getting the best out of JICMAIL Discovery 3.0
Stef Hrycyszyn, Customer Engagement Lead, JICMAIL