The Q2 data release reveals a wealth of insight into how consumers have been interacting with their mail over lockdown. While Direct Mail and Door Drop volumes have declined during the pandemic crisis, more time spent at home has seen double digit increases in how much consumers are interacting with and sharing their mail and consequently the length of time mail stays live in the home.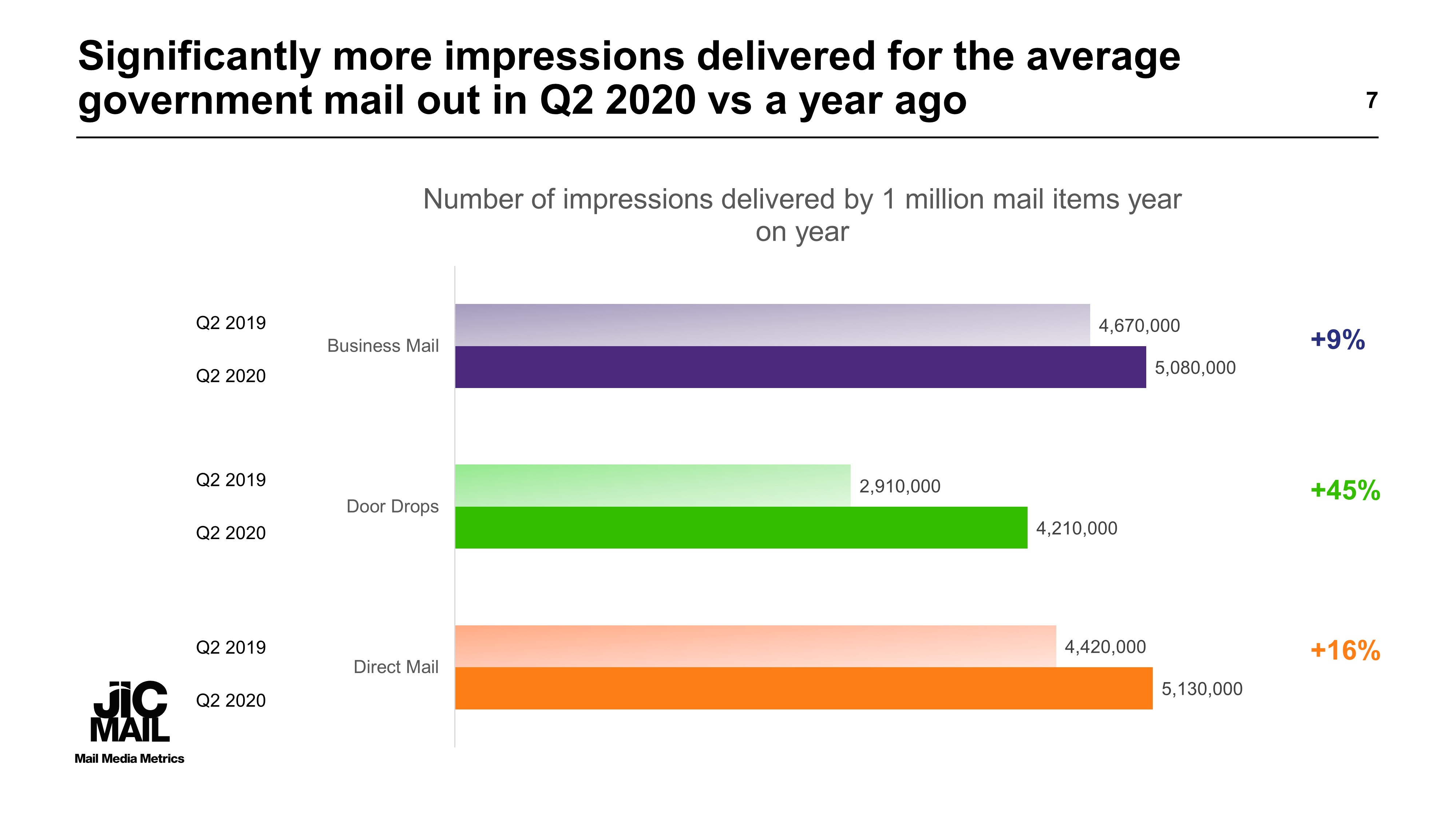 The full range of charts is available to download at the end of this update. 

For more analysis on our lockdown results, view our recorded webinar
JICMAIL's diary-based data captured from a panel one thousand households every month reveals that:
The average piece of

 

direct mail

 

was interacted with

 

4.58

 

times in Q2 2020 – a record high since JICMAIL began tracking mail activity in Q2 2017.
Door drops

 

also saw record levels of consumer engagement, with the average piece interacted with

 

3.19 times

 

on average – equating to 15% growth year-on-year.
As crucial covid related messages were delivered by the government and the NHS, the importance of mail in keeping consumers informed during the pandemic saw direct mail and door drops rack up record life spans, with the average

 

DM piece live in the home for 8.5 days

 

on average, and

 

door drops 6.9 days.
Business Mail

 

recorded the

 

highest levels of consumer interaction

 

(4.87 times per month); mail sharing (shared with 1.18 people per household) and longevity (live in the home of 9.6 days on average)
Key mail metrics for Q2 2020 can be summarised as follows:
Q2 2020 KEY MAIL METRICS PLUS YEAR ON YEAR % CHANGE

Frequency

Item Reach

Lifespan

Direct Mail

4.58 (+11%)

1.14 (+2%)

8.5 days (+9%)

Door Drops

3.19 (+15%)

1.07 (+2%)

6.9 days (+16%)

Business Mail

4.87 (+7%)

1.18 (+4%)

9.6 days (+10%)
Mail interactions captured by JICMAIL panellists take many forms and range from opening and reading mail, to passing it on to someone else, putting it in the usual place, putting aside to look at later or taking it out of home (amongst a list of many other actions). In addition, JICMAIL captures the industry category and advertiser details of almost every mail item in its 150,000+ mail item database.
Key sector highlights:
With every household in the UK sent a door drop from the Prime Minister in April, the UK Government has been very active in the mail sector in Q2 2020. Government Door Drop frequency of interaction increased 45% year on year to 4.21; while lifespan increased a staggering 68% to 9.5 days - even topping the government's own direct mail average of 8.5 days. This effectively means that with 27.8 million households mailed, over 117 million ad impressions were generated over a critical month in the crisis – pointing towards the strength of the mail channel in driving home trusted advertiser messages in UK households.
In a time of heightened health sensitivity, addressed mail saw the largest metric improvements in the medical sector which includes medical, NHS, Private Medical, Dental, Optician and Pharmacy, with frequency of interaction increasing by 11% to 5.02. Crucially respondents were also more likely to pass medical DM on to other household members with item reach increasing 9% to 1.23. This effectively means that the one million pieces of direct mail sent by the NHS to vulnerable people at the height of the pandemic, will in fact have reached 1.23 million people and generated over 5 million impacts. It will also have triggered very high levels of discussion in the household (for example, 20% of items for medical mail on average, generated discussions with someone else over the quarter) – demonstrating the often undervalued reach and interactions delivered by the mail channel.
Beyond the Government and Health categories, interaction rates with mail have increased across almost all categories across lockdown:
Telco DM average frequency increased by +21% as households turned to more entertainment
There was a 23% increase for Travel and tourism DM reflecting perhaps, the disruption to holiday plans
And utility providers benefited from 14% rise in their average frequency
Download the key charts below