Q2 2023 results reveal that despite another challenging quarter for British advertisers, the effectiveness of the mail channel has reached its highest point in a year and a half, with 30.5% of mail driving positive commercial outcomes for brands.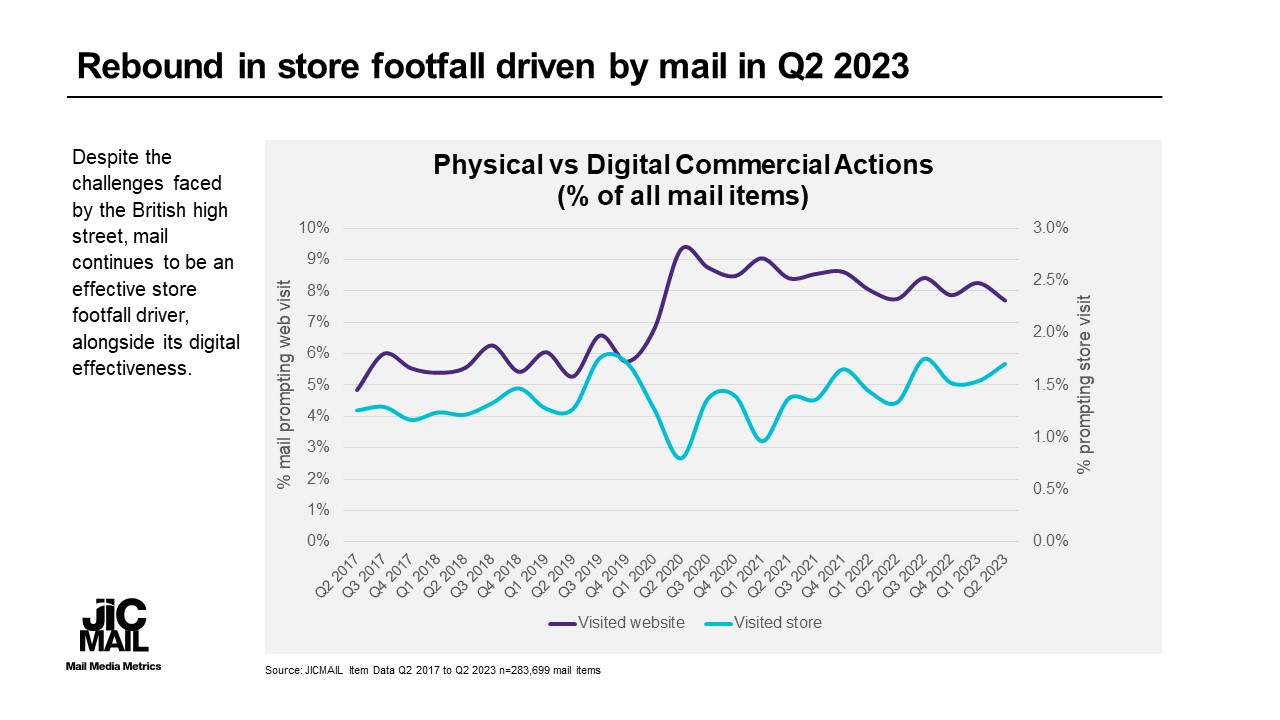 JICMAIL's diary-based data captured from a panel of one thousand households every month reveals that in Q2 2023:
Mail continued to prove its value as a commercially effective marketing channel for advertisers with 9% growth year on year in the proportion of mail items prompting commercial actions among consumers, up to a level of 30.5%.
Mail proved its effectiveness at all stages of the customer journey: from driving brand discovery through brand discussions (up to 16% of mail in Q2 2023 from 14% in Q2 2022); to customer engagement through website visits (8% of mail); through to purchase fulfilment (up to 5% from 4% last year).
Given the continued challenges that the British high-street faces in the cost-of-living crisis, it was noteworthy that mail recorded a 30% increase in effectiveness at driving consumer footfall in store.
While there were a handful of British retailers such as Morrisons, Hillary's, Marks and Spencer, and Farmfoods who took significant advantage of the mail channel by increasing their share of doormat (i.e. share of mail volumes) in Q2, there is a clear opportunity for retailers to boost their visibility in consumer households via the mail channel for the remainder of 2023.
The IPA Bellwether study reported that sales promotions drove record levels of growth in Q2 2023, and JICMAIL's Q2 data demonstrates that mail was a vital channel for delivering vouchers and special offers. 2.3% of all mail prompted a voucher to be used in Q2, with increased engagement particularly noted amongst special offers and vouchers delivered via Door Drops and Business Mail.
Overall consumer engagement with mail also continued to grow in Q2, with frequency of interaction up year-on-year across Direct Mail, Door Drops and Partially Addressed Mail, and Item Reach (i.e. the number of people mail is shared with in a household) up across all mail types.
For the fourth quarter in a row mail open, read and retention rates improved year on year, indicating the importance that consumers place on brand messages delivered by the mail channel in challenging economic times.
Mail attention has also continued to grow with the average piece of Direct Mail looked at for 122 seconds across 28 days, Door Drops 55 seconds and Business Mail 159 seconds. As covered in JICMAIL's recently published "The Time We Spend With Mail" attention study, high attention mail items have a x2 to x3 effectiveness multiplier that advertisers should look to take significant advantage of through their creative design.
Key mail metrics for Q2 2023 can be summarised as follows:
Q2 2023 KEY MAIL METRICS

 

Frequency

Item Reach

Lifespan

Attention

Direct Mail

4.5 interactions

1.1 people

7.1 days

122 seconds

Door Drops

3.1 interactions

1.1 people

5.7 days

55 seconds

Business Mail

4.7 interactions

1.2 people

8.5 days

159 seconds

Partially Addressed

3.1 interactions

1.1 people

6.7 days

68 seconds
| | | | | | | |
| --- | --- | --- | --- | --- | --- | --- |
| % of ALL Mail… | Read / looked / glanced at | Opened | Retained in the home | Discussed with someone | Prompted a purchase | Prompted a store visit |
| Q2 2023 | 74.9% | 64.1% | 46.2%        | 15.7% | 4.7% | 1.7% |
| Q2 2022 | 72.9% | 62.2% | 44.1% | 13.7% | 4.2% | 1.3% |
Source: JICMAIL Item Data Q2 2023 n=10,590 Direct Mail, Door Drop, Partially Addressed and Business Mail items
Mail interactions captured by JICMAIL panellists take many forms and range from opening and reading mail, to passing it on to someone else, putting it in the usual place, putting aside to look at later or taking it out of home (amongst a list of many other actions). In addition, JICMAIL captures the industry category and advertiser details of almost every mail item in its 280,000 strong mail item database.
Ian Gibbs, Director of Data Leadership and Learning commented, "There have continued to be mixed signals from the British high street this summer. While retail sales actually increased in June, the number of vacant stores grew. Either way, with budgets under significant pressure, marketers need to consider their media mix with even greater levels of scrutiny. With the mail channel proving its ability to drive store footfall and purchase along with a range of digital effects, it is clear that Direct Mail and Door Drops can offer advertisers the immediate returns that they are looking for."
Mark Cross, Engagement Director of JICMAIL added, "The opportunity for advertisers to present their value story in mail in a tough economic climate is unmatched. We are delighted to now include the time spent with mail metrics as part of gold standard reporting which collectively demonstrates that as well as increased reach, readership and commercial actions people are also spending more time with their mail than ever. Data demanding renewed attention from all planners."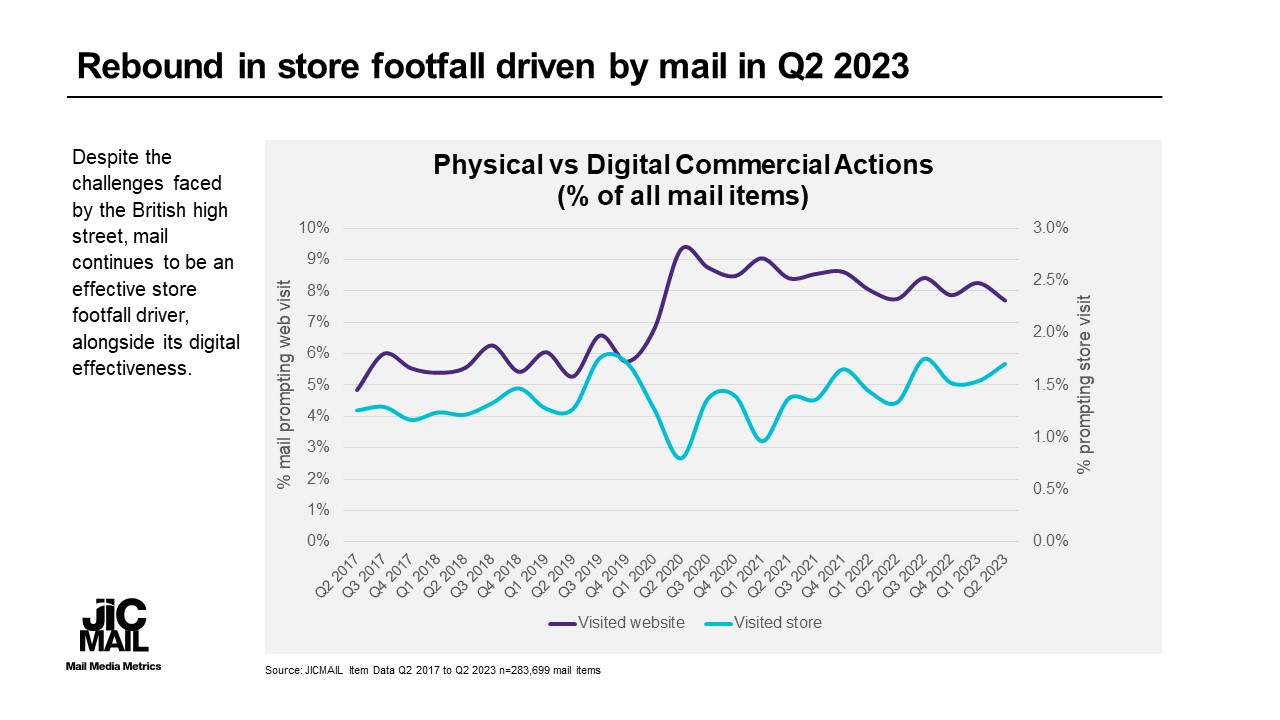 Q2 2023 results: Questions over whether the embattled British high street is making the most of the mail channel as mail effectiveness reaches a six-quarter high
.pdf 327921
Download