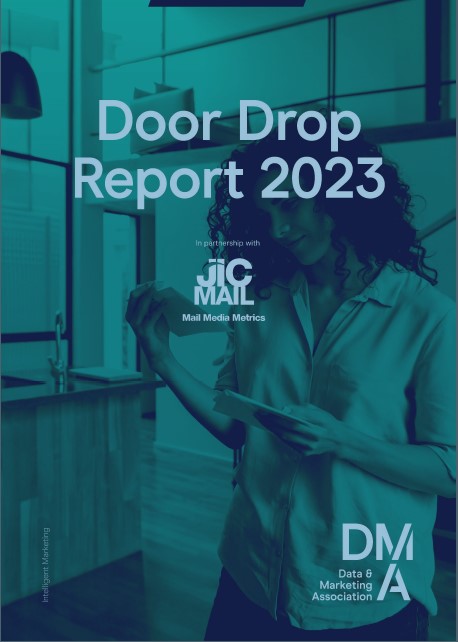 Door drop volume and spend remain stable despite volatile market

Annual door drop volumes and spend show resilience of the channel, with rising engagement over a five-year period offering optimism

The Data & Marketing Association (DMA UK) and JICMAIL have revealed the latest insights into the Door Drop industry in the 'Door Drop Report 2023'.
Despite a largely unpredictable year for businesses across the UK, annual expenditure on Door Drop remained stable – decreasing marginally year-on-year by approximately -£1.1m, down to £181.2m. Door Drop volumes also held up well, dropping from 3.54 billion to 3.53 billion year-on-year.
The DMA's partnership with JICMAIL has merged the trade body's industry data with the industry-standard audience measurement, resulting in the most accurate and detailed picture of the UK door drop market available – with a greater understanding into contributing factors behind annual volumes and spends.
"2022 was a year of two halves for Door Drop and the wider advertising industry. After a positive start in the first quarter, where it was performing at a three-year high, the ongoing challenges of high inflation, rising cost of living, and multi-sector strike action are likely to have had noteworthy impacts on the use of Door Drop," said Ian Gibbs, Director of Insight at the DMA. "Overall, our latest data suggests that the Door Drop channel has held up well in a difficult advertising market. Volumes and value were virtually flat year-on-year, and mainly hampered by unprecedented issues such paper availability, rising production costs following the energy crisis, and Royal Mail strikes affecting advertiser confidence."
A key thing to note is that Door Drop as a channel in 2022 was not just resilient - it continues to display improved levels of efficiency and effectiveness. As of Q4 2022, the average Door Drop was shared with 1.05 people per household (a metric referred to as Item Reach), reflecting an additional 5% audience reach on top of campaign volumes. In addition, the average person in the UK interacts with each Door Drop 3.1 times a month.
Door Drops reach a broad range of target audiences
Younger audiences continue to present additional targeting opportunities for advertisers in the mail channel.
While all age groups measured have seen their Door Drop engagement increase since 2018, the under 35 category has overtaken the other two age cohorts and - despite those aged 55+ narrowing the gap during 2022 – they remain the most engaged age group overall.
Gibbs added: "Other than budget and planning best practice there is no limit on the types of households that can be targeted by Door Drop. Upmarket audiences are just as likely to interact with Door Drops as downmarket audiences, while under-35s are more likely to interact with the channel than any other age group. At the same time, they are the least likely group to be targeted by advertisers, creating huge short-term share-of-voice opportunities."
Door Drop frequency by household co-ordinator age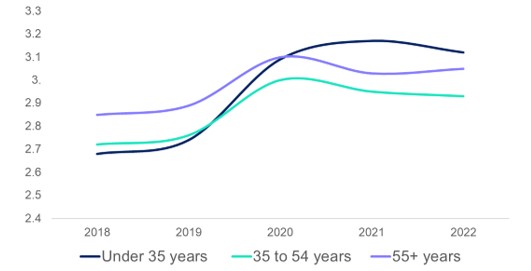 Neal Dodd, Chair of the DMA Print Council Door Drop Hub concluded: "The channel is performing well and with issues around paper prices, industrial action, and instability in government seemingly behind us, we're hopeful of seeing confidence return during 2023 so that even more clients can take advantage of Door Drop performance. Recent years have shown us that predictions are tricky to say the least, but if projections for inflation to fall into 2024 are accurate, then 2023 may bring a reverse of what we have seen in this report; with volume and spend growing once again."
To find out more about the research, visit the DMA website