The Q3 2020 data release has revealed high consumer engagement with Direct Mail and Door Drops, and significant improvements in digital campaign effects attributed to mail.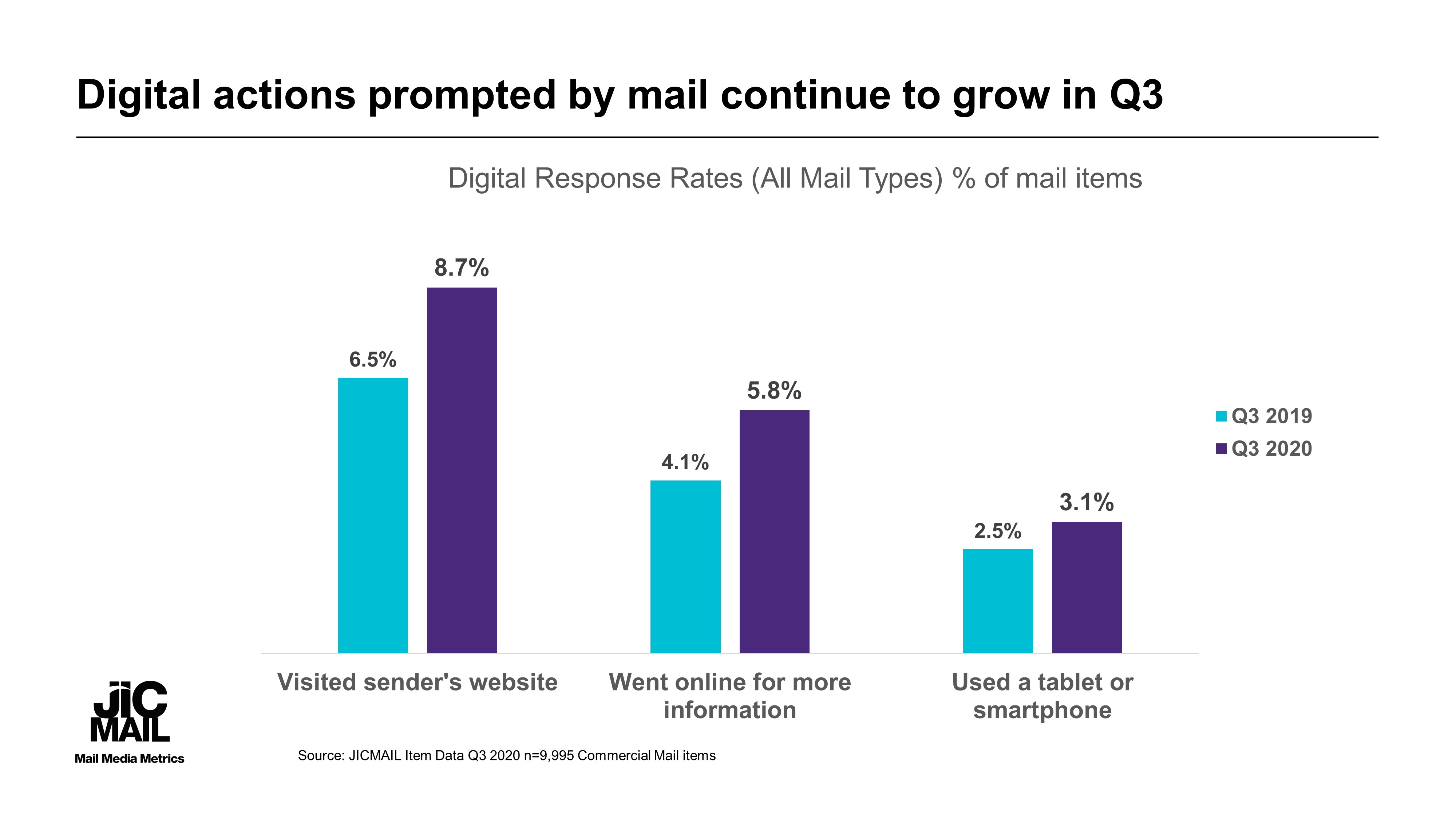 The full range of charts is available to download at the end of this update. 
JICMAIL's diary based data captured from a panel one thousand households every month reveals that:
8.7% of all advertising mail (including Direct Mail, Door Drops and Business Mail) drove traffic to advertiser websites in Q3 2020: up from 6.5% a year ago and representing a 33% increase year on year.
Furthermore, 5.8% of ad mail has driven people online generally to find out more information about advertising content: up from 4.1% a year ago and representing a 41% increase year on year.
Mail interaction rates have not reached the same record-breaking levels seen during lockdown in Q2, but remained impressively high nonetheless in Q3. The average piece of Direct Mail is interacted with 4.43 times a month on average, while Door Drops are interacted with 3.03 times.
Mail sharing in households continues to steadily improve year on year, with the average piece of Direct Mail seen by 1.15 people per household and the average Door Drop by 1.06 people.
Business Mail continues to record the highest lifespan (i.e. the time a mail item is live in the home before being thrown or filed away) of all mail types at a level of 9.5 days on average, followed by 8.4 days for Direct Mail and 6.4 days for Door Drops.
Mail content which contained some form of local information drove high engagement in Q3. The lifespan of direct mail containing entertainment or activity content grew 18% year on year; invitations to specific events grew 13% year on year and appointment related information grew 11%.
With the second lockdown period covered in JICMAIL's Q4 data (set to be released in February 2021), the industry awaits news of whether frequency, reach and lifespan will again climb to record levels before the end of the year.
Key mail metrics for Q3 2020 can be summarised as follows:
Q3 2020 KEY MAIL METRICS

Frequency

Item Reach

Lifespan

Direct Mail

4.43

1.15

8.4 days

Door Drops

3.03

1.06

6.4 days

Business Mail

4.93

1.18

9.5 days
Q3 2020 MAIL DIGITAL EFFECTS (% OF MAIL ITEMS)

Visits to Advertiser Websites

General Online Visits for More Information

Prompted to Use Tablet or Smartphone

Q3 2020

8.7%

5.8%

3.1%

Q3 2019

6.5%

4.1%

2.5%

YEAR ON YEAR % CHANGE

+33%

+41%

+24%
Source: JICMAIL Item Data Q2 2017 to Q3 2010 n=9,995 Q3 2020 mail items
Mail interactions captured by JICMAIL panellists take many forms and range from opening and reading mail, to passing it on to someone else, putting it in the usual place, putting aside to look at later or taking it out of home (amongst a list of many other actions). In addition, JICMAIL captures the industry category and advertiser details of almost every mail item in its 160,000+ mail item database.
"It's no secret that marketing budgets have come under more scrutiny than ever during the pandemic driven economic downturn. At the same time the nation's thirst for online shopping has continued to grow unabated. This makes the measurement of digital effects and the correct attribution of digital traffic to offline channels such as advertising mail, all the more important as marketers look for an accurate read on advertising efficiency and effectiveness," said Ian Gibbs, Director and Data Leadership and Learning at JICMAIL.
Key sector highlights:
Finance and Retail advertisers have played a big part in sustaining Direct Mail interaction rates, recording healthy mail volumes and year on year increases in frequency of interaction with their mail.
For Door Drops it is retail, supermarkets and restaurant / takeaway advertisers which have driven growth in consumer mail engagement.
The largest advertisers have tended to benefit from improvements in their share of the door mat in Q3 2020 (essentially share of mail activity / mail share of voice). Eight of the top ten Direct Mail advertisers and seven of the top ten Door Drop advertisers have seen their mail share of voice improve this quarter, resulting in greater visibility on consumer door mats.
The NHS has seen one of the largest shifts in share of the door mat, as it delivers essential covid related messages to the population. As a consequence, appointment related mail content has seen a +14% growth in average interaction rates in Q3.
Scroll to top