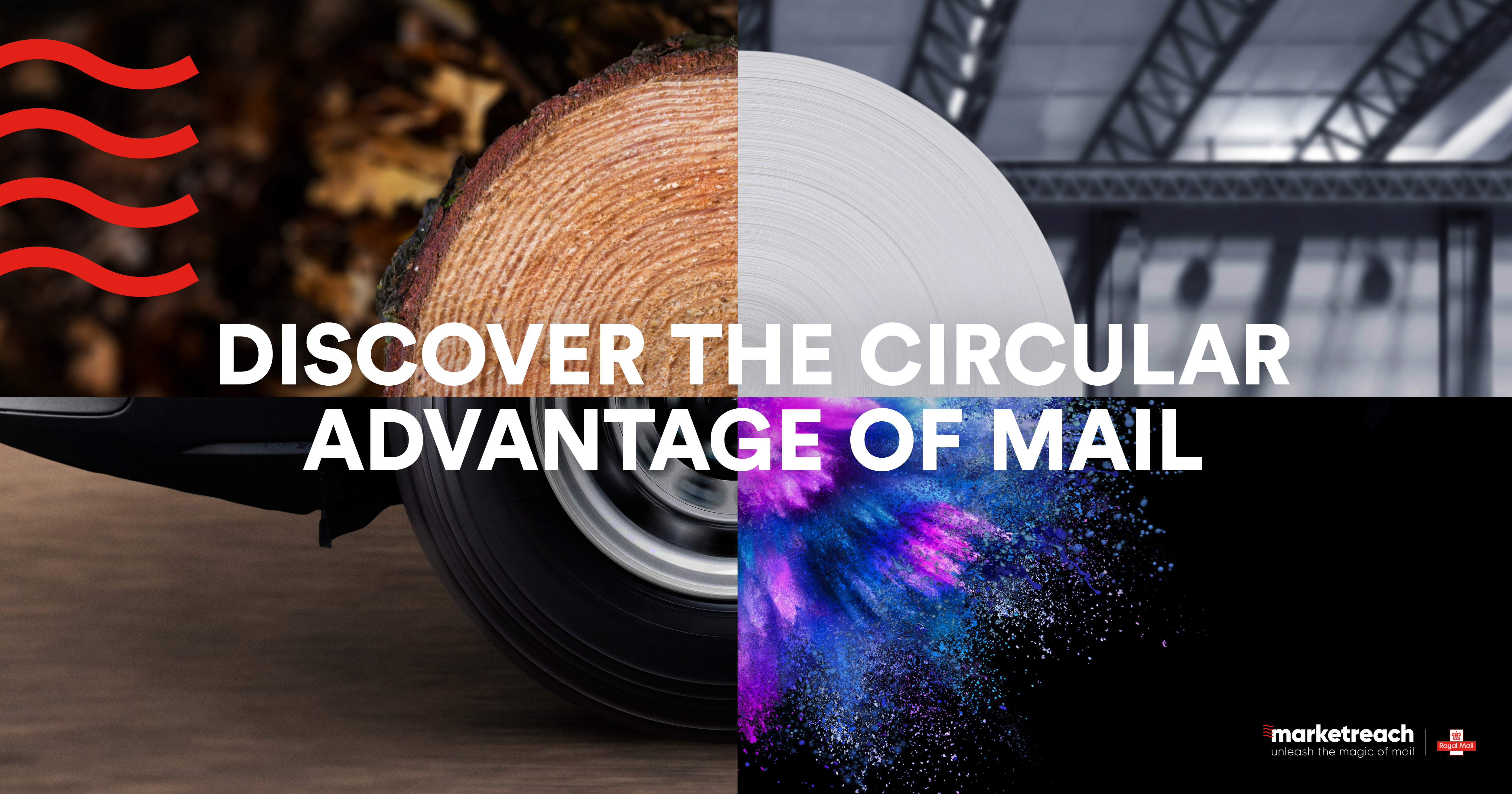 Marketreach has unveiled a new industry-first study into the environmental impact of commercial mail. The Life Cycle Assessment (LCA*) is an in-depth look at every element and is supported by a striking new creative campaign focussing on the 'Circular Advantage of Mail' and how it can contribute to a circular, regenerative economy.
The new research, which was carried out by environmental experts WSP, and commissioned by Marketreach, has produced a full carbon Life Cycle Assessment of mail. This is the first time Marketreach has looked in-depth at every element, from forest source to end-of-life, via the processing, design, production and delivery stages. It has found that, by taking every opportunity to regenerate, reinvent, reduce, reuse and recycle, mail can contribute to a circular economy, and be part of an effective marketing mix.
Sustainable and bold creative campaign
To support its in-depth research and journey to environmental sustainability, a creative campaign for Marketreach by MSQ/Sustain, launches today with bright and bold creative across direct mail, OOH, social, email, search, display, YouTube and trade media.
Throughout the planning and delivery of the campaign the team were considerate of the environment, from shooting in a studio and using stock footage rather than outdoor location settings
Empowering marketers to make carbon smart choices
To empower marketing teams to make informed decisions and help make mail campaigns carbon smart, Marketreach has also launched an interactive online tool using data from the Life Cycle Assessment that provides data on the carbon footprint of each stage in the supply chain of 10 of the most commonly used commercial mail formats. The tool allows users to compare the average carbon emissions of formats across the lifecycle of mail and compares it to everyday products to provide context for the understanding of its impact.
As an example, the current overall carbon impact for one standard postcard is 43.61 gCO2e, which is less than an email with a large attachment, which could have a carbon footprint of 50 gCO2e according to Climate Care and also less than the impact of an orange. The overall impact of an A4 or C5 Large Catalogue is 445.29 gCO2e, which is only slightly more than the impact of one 15g cup of coffee.** The tool is complemented by a checklist of points to consider when planning a mail campaign and an online film. 
Philip Ricketts, Commercial Director at Marketreach said: "Working with LCA experts and the entire mail supply chain, WSP helped us to understand and identify driving factors that will enable us to build on the industry's substantial progress in terms of sustainability and enable future change. But carbon is only part of the story. Understanding the broader environmental credentials of mail is equally as important. Our campaign demonstrates how mail can be part of a circular economy.
"Our focus is simple. We want to empower mail users to make informed choices and decisions so we have developed a range of resources with the support of the print industry to help them, including a best practice guide and our new LCA tool. There's still so much more to be done across the supply chain to lower the environmental impact of mail, but our journey is well underway. Along with our customers and the print industry, we are determined to continue to make a positive impact in this important area."
Richard Armstrong, Partner at MSQ/Sustain, said: "Creatively, we set out to develop a campaign that would not just cut-through, but would challenge some of the myths and misperceptions about the sustainability of mail, and lay the foundation for consistent messaging for many years to come.
By widening the 'aperture' to see the whole of the life cycle of mail, from sustainable forest management to its eventual recycling, the campaign uses the facts to prompt a reappraisal of what mail can be if the right sustainable decisions are made at the right time. We want it to be more than just informative, however – we want this campaign to be useful. We want those who use or are thinking about using commercial mail to have the information they need to make good decisions - so they can continue to invest in a highly effective and creative medium, but to do so knowing they are also minimising the carbon impact of those choices and contributing to a more circular economy."