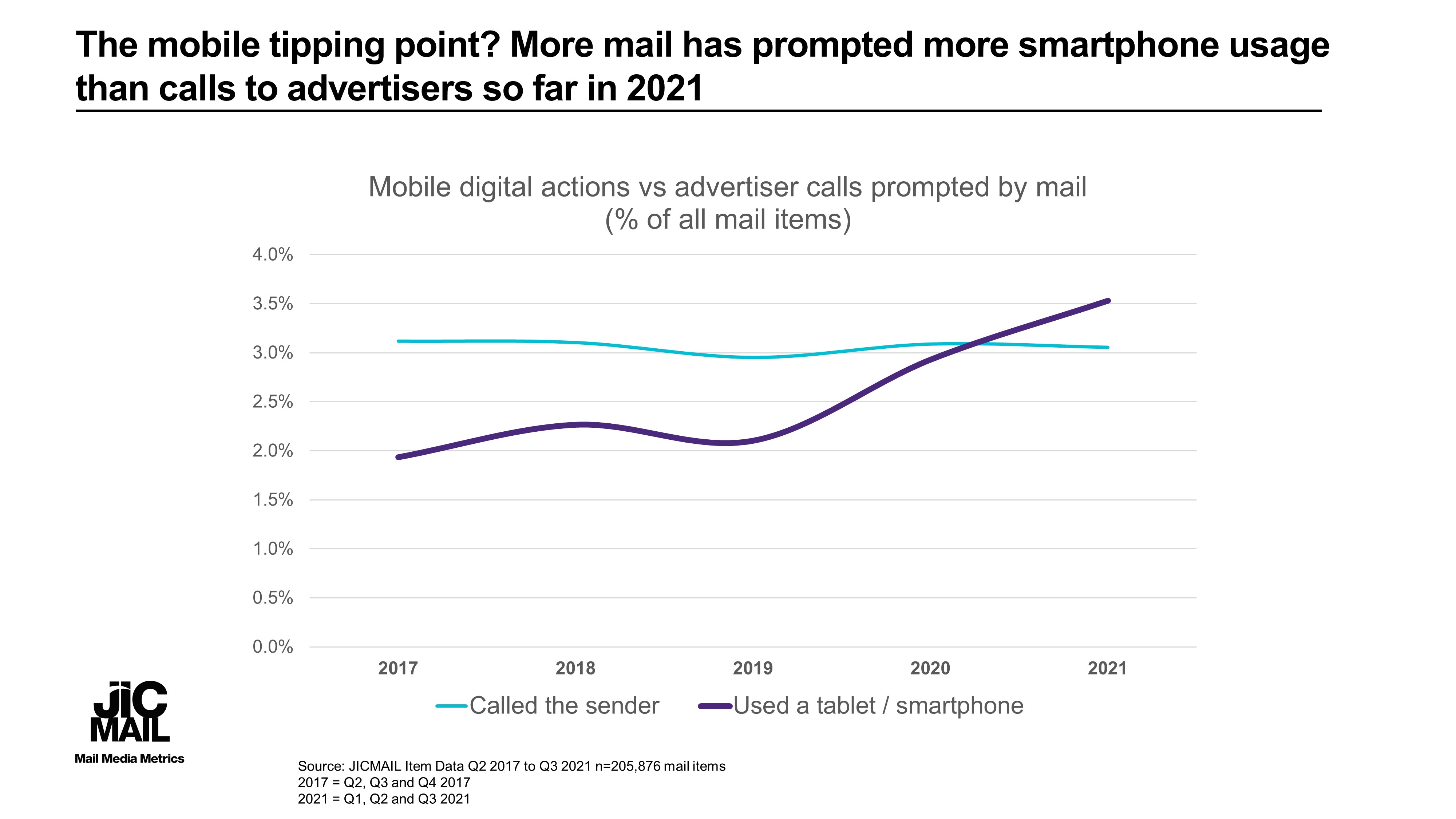 Q3 2021 results reveals mail has reached a mobile tipping point with record levels of digital activity driven by Direct Mail, Door Drops and Business Mail. The effectiveness of mail at driving consumers to use their tablets or smartphones has increased by 11% year on year in Q3 2021, while the two year growth trend revealed an increase of 41%.

The full range of charts is available to download at the end of this update.

Watch again our Q3 2021 webinar
JICMAIL's diary based data captured from a panel of one thousand households every month reveals that in Q3 2021:
The "new normal" in mail's effectiveness at driving digital actions that was surfaced a year ago, shows no sign of dissipating a year later. 9% of mail drives consumers to advertiser websites, 6% to seek out new information about a brand online, while 5% prompts consumers to look up their account details.
In addition, mail has cemented its position in a multi-channel world by driving record amounts of tablet and smartphone usage. For the first time, the amount of mobile device usage prompted by mail exposure has outstripped the amount used to call advertisers directly.
Direct Mail with distinct customer oriented creative content has been found to be highly effective at driving mobile usage (of which online banking is a large part). 11% of DM containing appointment related information drives mobile usage, and DM containing product notifications and reminders drives a similar level of mobile effectiveness.
Volumes on the JICMAIL panel continue to increase as the market rebounds from the pandemic, with Door Drops the stand out growth channel recording an 18% increase in volumes year on year. A rebound in travel and tourism activity in the summer months, plus telecoms sector activity drove this improved Door Drops position,
Key mail media metrics tracked by JICMAIL remain broadly stable year on year, with the average piece of Direct Mail interacted with 4.4 times a month on average, Business Mail 4.9 times and Door Drops 3.0. Each interaction represents a brand impression and points to the power of mail in delivering the types of effects of usually associated with traditional above-the-line channels.
Key mail metrics for Q3 2021 can be summarised as follows:
Q3 2021 KEY MAIL METRICS

Frequency

Item Reach

Lifespan

Direct Mail

4.35

1.12

7.4 days

Door Drops

3.02

1.05

5.7 days

Business Mail

4.76

1.17

9.1 days
| | | | | |
| --- | --- | --- | --- | --- |
| % of mail driving… | Visits to advertiser websites | Going online for more information | Account details look-ups | Mobile device usage |
| Q3 2021 | 9% | 6%                    | 5% | 3% |
Source: JICMAIL Item Data Q3 2021 n=10,833 Direct Mail, Door Drop and Business Mail items
Mail interactions captured by JICMAIL panellists take many forms and range from opening and reading mail, to passing it on to someone else, putting it in the usual place, putting aside to look at later or taking it out of home (amongst a list of many other actions). In addition, JICMAIL captures the industry category and advertiser details of almost every mail item in its 190,000+ mail item database.
New test and learn toolkit for mail:
With the effectiveness of mail in a multi-channel world continuing to reach new heights in the "new normal" that is a post-pandemic world, it is more important than ever for advertisers to have a full suite of measurement tools at their disposal. With this in mind, JICMAIL has this month launched the following creative and campaign research solutions for advertisers, agencies, printers and mailing houses:
A Test and Learn Toolkit, including mail creative content and audience targeting recommendations for A/B testing across a range of industry categories, along with the benchmarks by which success can be judged.
An experimental methodology that allows advertisers to directly seed the JICMAIL panel with their campaigns, so that effectiveness can be tracked across all JICMAIL core commercial actions – from web traffic, to brand discussions to purchase based actions. Data is extracted from the core JICMAIL nationally representative deliverables before being presented back to advertisers.
JICMAIL has agreed an integration into Kantar's brand measurement and shopper panel measurement solutions – enabling advertisers to assess how mail shifts the dial on brand awareness and consideration, along with its wider impact on retail sales.
JICMAIL has agreed an integration with RAM (Research and Analysis of Media) to integrate JICMAIL metrics into creative testing and campaign evaluation research using digital recreations of mail packs.
Mark Cross, Engagement Director at JICMAIL added "Yet again this latest data release shows the multiple patterns of consumer behaviour stimulated by mail in the home, driving a range of actions across platforms. The trend towards mail prompting usage of mobile devices is a lead indicator of the deepening relationships between physical and digital channel opportunities with mail priming activity elsewhere. We encourage all our users to explore and test the value of these evident trends by reference to our test and learn toolkit, designed to inspire users to put the latest JICMAIL insights to the test, however large or small the campaign."        
For more information on how you can get hold of JICMAIL data and use it to plan more efficient and effective mail campaigns, please visit www.jicmail.org.uk or email tara@jicmail.org.uk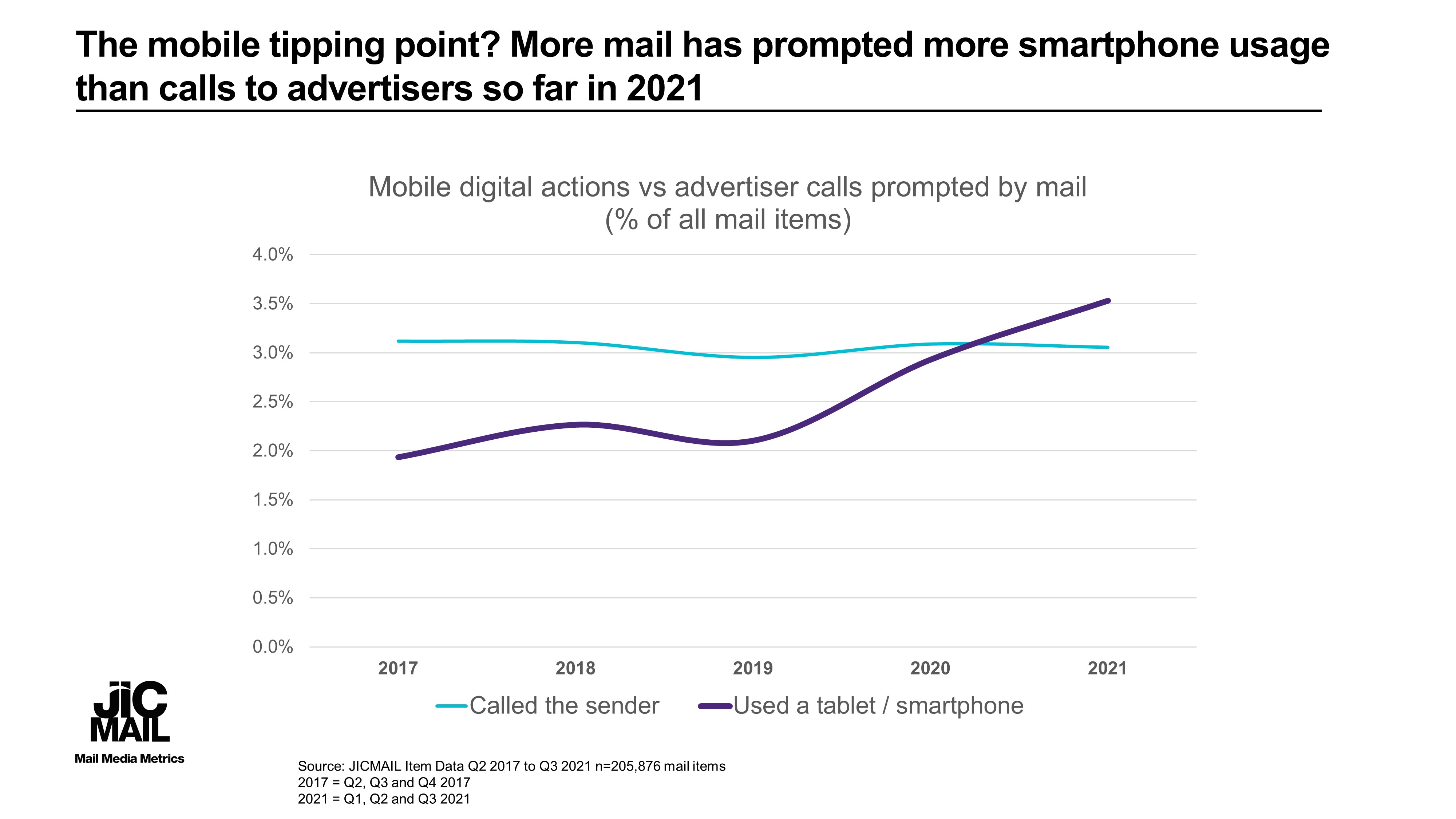 NEWS: Q3 2021 results reveal mail reaches a mobile tipping point with record levels of digital activity
Download Now
.pdf 340572
Download