Although available to above-the-line channels for decades, the ad impression is a planning metric that has typically eluded the mail channel. With the advent of JICMAIL, planners can now introduce audience and impression based planning to the world of direct mail and door drops using a just a few simple calculations, writes Ian Gibbs, Director of Data Leadership and Learning, JICMAIL. 
JICMAIL's data portal – JICMAIL Discovery – shows us that the average piece of finance DM isn't just seen by the person it's addressed to. It's shared in the household and typically reaches 1.13 people giving it an additional reach of 13%. A typical finance brand's 1 million finance mailers will in fact reach 1.3 million people.
What we also know is that those 1.13 million people tend to interact with the average piece of finance DM 4.3 times over the course of the month. Multiply these two figures together and you end up with 4.8 million impressions. That's 4.8 million opportunities for a finance advertiser to get its brand in front of people generated by just 1 million mail items. This x5 efficiency is not to be sniffed at in the world of brand campaign planning!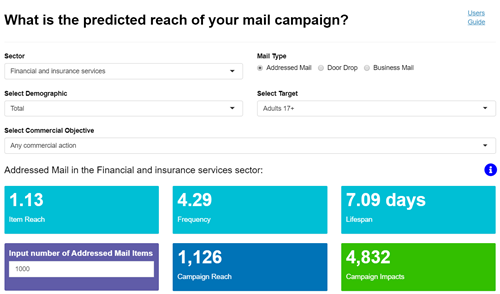 But of course, much of direct mail and door drop planning centres around direct response and it's for this reason that a cynic will claim that an impression-based view of mail impact merely makes a campaign with a 1% response rate look 5 times less effective when viewed on an impression basis.
This is where the other side of the JICMAIL planning equation comes in.
There are a whole range of outcomes measured by JICMAIL that exist further up the purchase funnel – effects that aren't related to a direct sale but say something of product discovery via word of mouth, website traffic, store footfall and phone calls. In fact, this unique functionality of JICMAIL tells us that a third of the impressions generated by our finance campaign, are from items which drive some sort of commercial outcome.
As the chart below shows, newly launched functionality in JICMAIL Discovery's Mail Campaign Calculator allows planners to select a range of commercial outcomes to assess what proportion of items and impacts will drive a desired outcome. With our finance campaign, 17% of impressions are generated by items which drive word of mouth, 12% which drive web traffic and 8% which drive traffic to a brand's owned assets (either physical or online stores).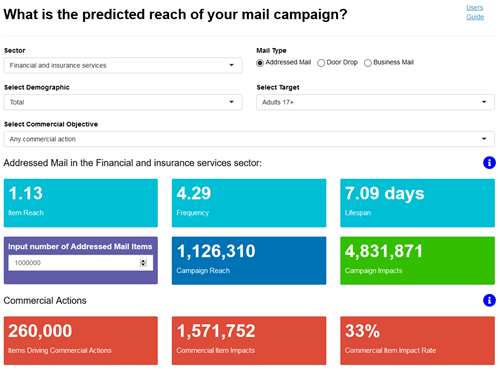 There is a barely a marketer out there unaware of Field and Binet's golden 60:40 rule. The marketing industry's addiction to short term success (which ignores the proposed 60% of budget that should be apportioned to brand building) has started to yield negative results with the IPA reporting a decline in creative effectiveness and Kantar reporting a decline in the value of the UK's top 75 brands in 2018.
JICMAIL data demonstrates that mail and door drops can achieve both long term and short term marketing goals however, with our award winning reach, frequency and impression planning metrics speaking to the former and our wide ranging commercial action tracking speaking to the latter.
Agencies: Make sure to include a JICMAIL line in all your media plans – converting items to impressions. For detailed target audience and effective frequency planning, plug your campaign details into IPA Touchpoints Channel Planner.
Advertisers: Make sure that you are capturing the full range of commercial outcomes that direct attribution measurement methods don't always capture. Painting a full picture of mail effectiveness is key.
Get in touch with admin@jicmail.org.uk to arrange for a free trial or to book a training update today.