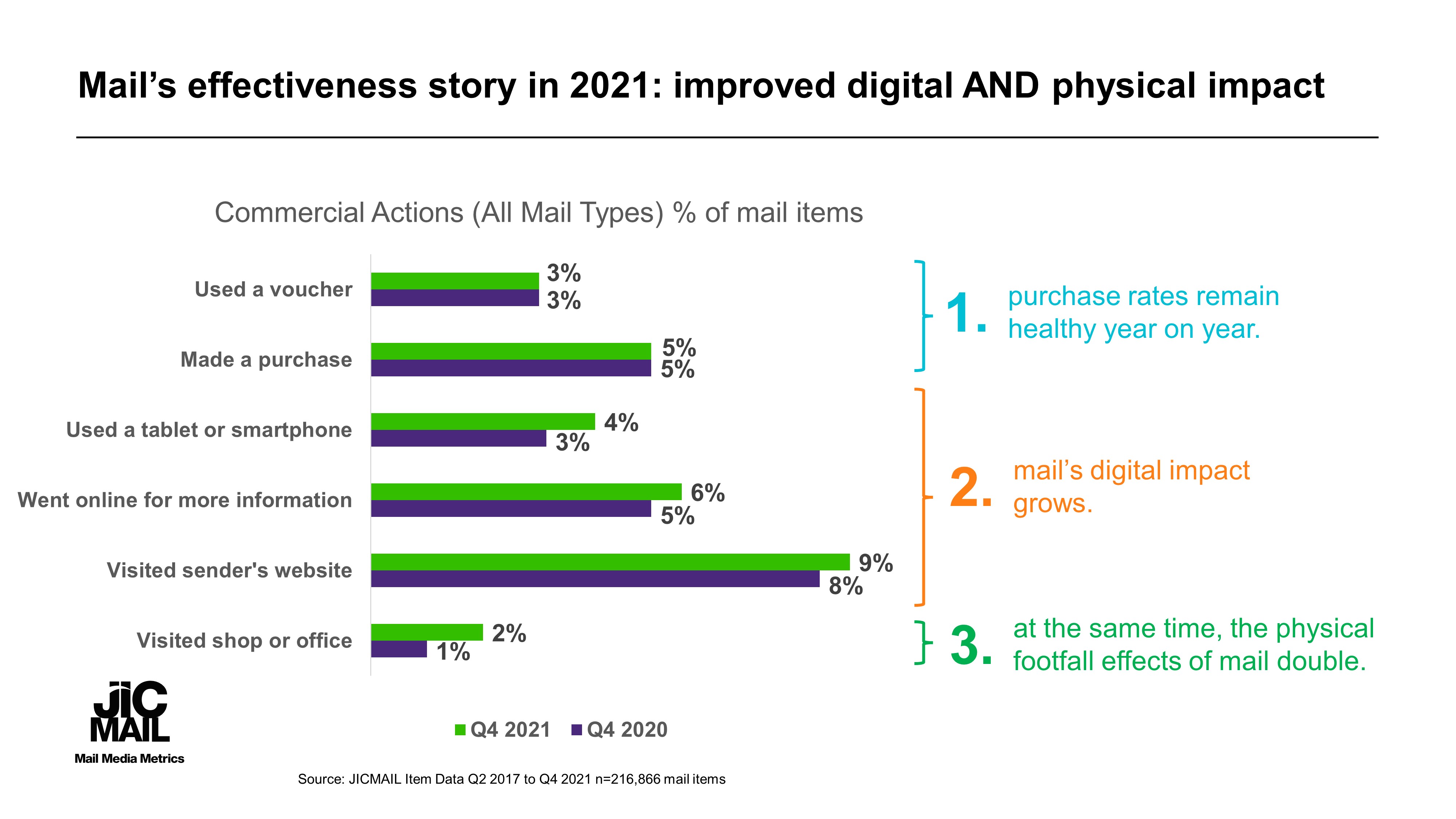 Q4 2021 data reveals that while the digital effects of mail exposure continues to grow, the channel was twice as effective at driving store footfall in Q4 2021 than it was a year ago.

The full range of charts is available to download at the end of this update.

See Ian Gibbs present an in-depth look at this data at our next webinar.
JICMAIL's diary-based data captured from a panel of one thousand households every month reveals that in Q4 2021:
Mail continued to cement its position at the heart of multi-channel marketing strategies by further expanding its effectiveness at driving advertiser website traffic, product and service information gathering online, and record levels of smartphone and tablet usage. While 9% of mail (across Direct Mail, Door Drops and Business Mail combined) prompted a website visit, mail also continued to record robust effects for traditional bricks and mortar retailers. With the nation managing to avoid another lockdown over Christmas, the proportion of mail driving consumers in store doubled in comparison to Q4 2020.
Volumes on the JICMAIL panel increased by 16% year on year, with Door Drops again the stand-out growth channel recording a 30% increase year on year. Volumes are now in excess of pre-pandemic levels with 11,984 items tracked in Q4 2021 vs 11,489 in Q1 2020.
Of the seventeen industry sectors measured by JICMAIL, it is the retail sector that has proven to be most effective at taking advantage of mail's digital and physical effects in the key Christmas trading season. Retail is the only sector alongside Automotive that records above average mail effectiveness at driving web visits (11% of retail mail) and store footfall (3% of retail mail). In comparison, while Supermarket advertisers are very effective at driving customers in store, their mail is still performing below average at driving people online.
The Direct Mail and Business Mail channels have both recorded uplifts in frequency of interaction in Q4 2021. Most notably this uplift has been driven by younger audiences for Direct Mail, with 25-34, 35-44 and 45-54 year olds all interacting with mail more than they were a year ago.
Key mail metrics for Q4 2021 can be summarised as follows:
Q4 2021 KEY MAIL METRICS

Frequency

Item Reach

Lifespan

Direct Mail

4.55

1.12

7.4 days

Door Drops

3.04

1.05

5.4 days

Business Mail

4.96

1.18

9.4 days
| | | | | | |
| --- | --- | --- | --- | --- | --- |
| % of mail driving… | Purchases | Visits to advertiser websites | Going online for more information | Mobile device usage | Store footfall |
| Q4 2021 | 5% | 9% | 6%                    | 4% | 2% |
| Q4 2020 | 5% | 8% | 5% | 3% | 1% |
Source: JICMAIL Item Data Q4 2021 n=11,984 Direct Mail, Door Drop and Business Mail items
Mail interactions captured by JICMAIL panellists take many forms and range from opening and reading mail, to passing it on to someone else, putting it in the usual place, putting aside to look at later or taking it out of home (amongst a list of many other actions). In addition, JICMAIL captures the industry category and advertiser details of almost every mail item in its 215,000+ mail item database.
New JICMAIL Essentials for the mail industry
With mail volumes recovering, and mail effectiveness increasing, JICMAIL has seen more demand than ever to access its mail planning and measurement data. In an effort to service the needs of the thousands of small and medium businesses who use mail but are not yet JICMAIL accredited, the joint industry currency has today announced the launch of JICMAIL Essentials. 
JICMAIL Essentials is a free to access platform and contains a wealth of mail campaign planning data detailing mail campaign reach, frequency and lifespan alongside effectiveness predictions according to different commercial objectives. Cross-media audience cost calculations; top performing mail creative downloads; and A/B testing toolkits by industry sector have all been made available through Essentials to bring the power of robust mail planning data to advertisers large and small.
Mark Cross, Engagement Director at JICMAIL says "JICMAIL Essentials is now available for everyone to access providing an easy first step within their time pressured routines to using this key data for their campaigns. We are delighted that enabled by the JICMAIL Levy, the tool is available at no cost for everyone to embed within their own resources. In particular, it is designed to support the many small and medium businesses who ordinarily do not access JIC data, but it is also there as a first step for all planners, who may wish their organisations to explore the data in more depth as a subscriber, which again, comes at no additional cost."    
Ian Gibbs, Director of Data Leadership and Learning added, "We've witnessed another high performing quarter for mail and it's encouraging to see volumes on the JICMAIL panel finally return to their pre-pandemic levels. JICMAIL continues to be a great source of information to help bust some long-held myths around the mail channel. It's been exciting to see the prevailing wisdom that only digital channels can be used to reach young people effectively challenged by the uptick in mail engagement noted among 25-34 year olds over the 2021 festive period."
For more information on how you can access JICMAIL data and use it to plan more efficient and effective mail campaigns email tara@jicmail.org.uk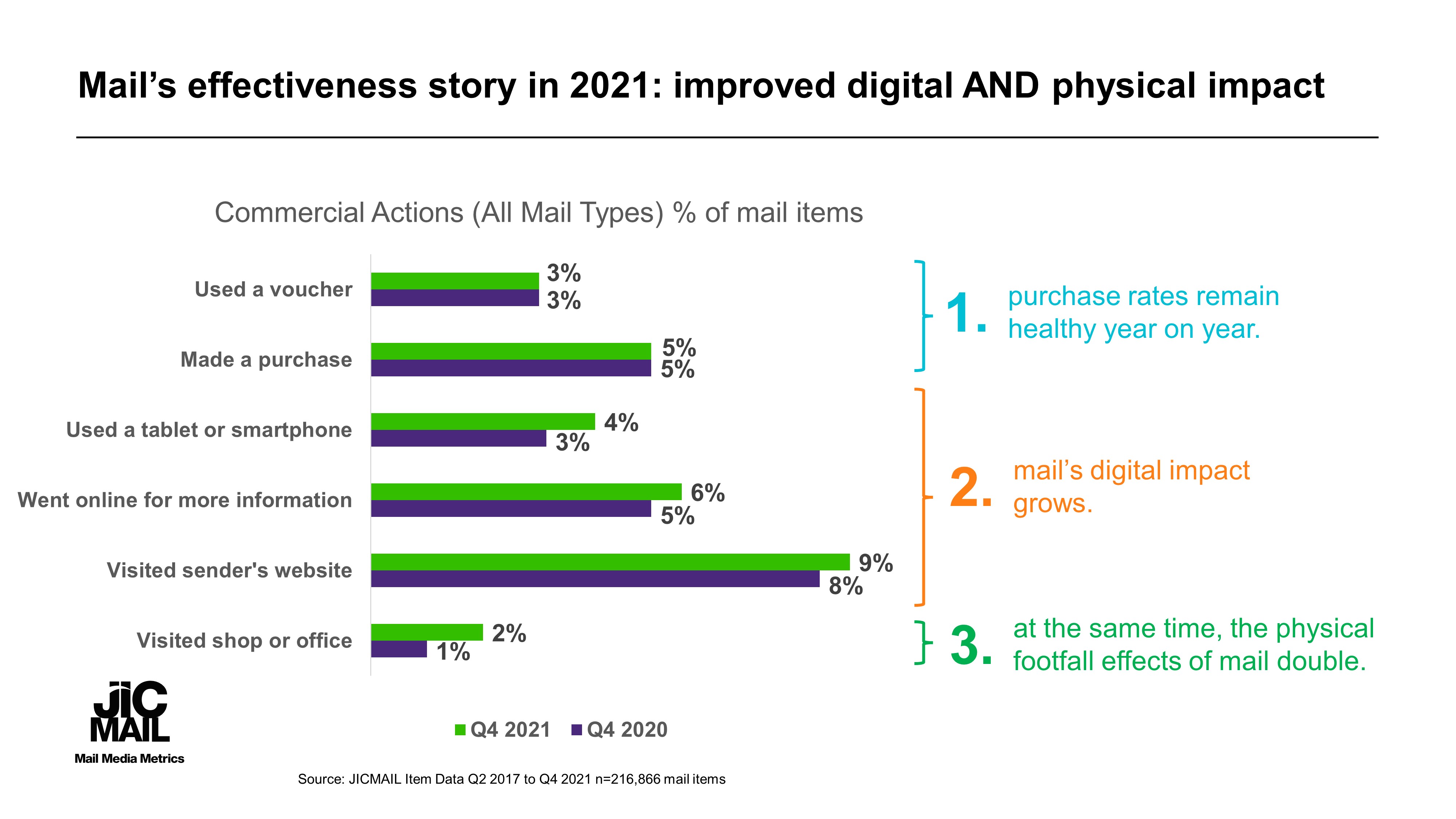 Q4 2021 results: Mail drives vital digital traffic and store footfall in the key Christmas trading period
Download Now
.pdf 358075
Download