Q4 2022 results reveals that over the Christmas trading season, more mail was opened, read and retained than at any other point during 2022.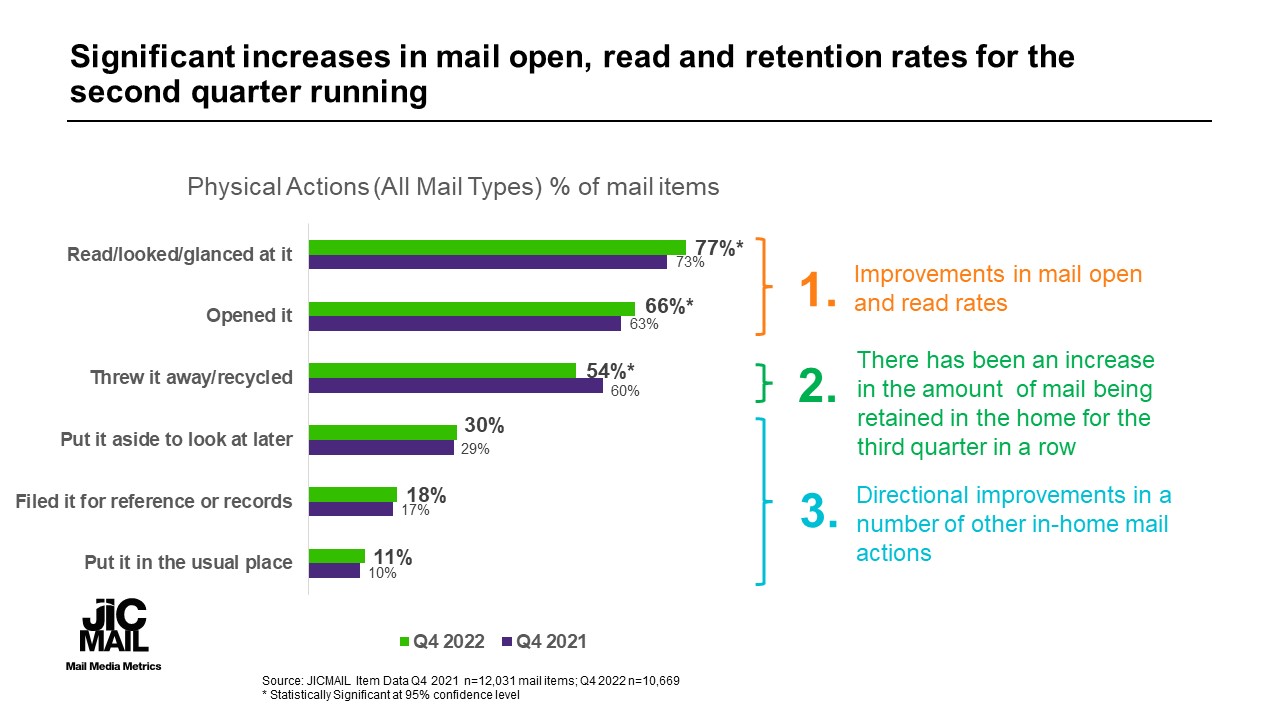 JICMAIL's diary-based data captured from a panel of one thousand households every month reveals that in Q4 2022:
A greater proportion of mail (including Direct Mail, Business Mail and Door Drops) was read (77% of mail items), opened (66%), and retained (46%) in the home in Q4 than at any other point in the year, confirming that the mail channel has continued to assert its role as vital source of advertiser product and service information as the cost of living crisis deepens.
Each of these physical mail interactions also represents a significant year-on-year increase vs Q4 2021. At a time of year when consumers are more likely than ever to be bombarded by advertising messages across multiple channels, the healthy open and read rates recorded for mail gives advertisers reassurance of consumers' willingness to engage with the mail channel.
Financial statements, loyalty reward statements, notifications and reminders (often about service renewals) and vouchers / coupons are the most likely types of mail content to be retained in the home (in other words, they are the least likely to have been discarded within the 28 day period that JICMAIL tracks mail interactions across).
In addition to open and read rates improving, the effectiveness of the mail channel has been maintained with a host of digital and purchase effects prompted by mail exposure particularly prevalent. A year-on-year increase in mail's effectiveness at driving brand discussions (up to 14% of mail), points towards mail continuing to drive effects throughout the customer journey – in brand discovery as well as purchase fulfilment.
The 5% of mail that is used to prompt a purchase is a number that tallies closely with the upcoming Response Rate Tracker pilot study from JICMAIL, which looks to provide enhanced mail benchmarking by drawing on campaign-centric data as opposed to self-reported consumer-centric data. The findings, which will be revealed at the next JICMAIL webinar on the 8th March, are a strong validator of JICMAIL's mail performance metrics.
The average piece of Business Mail was interacted with 4.9 times, Direct Mail 4.4 times and Door Drops 3.1 times over a twenty-eight day period in Q4 2022.
In the Direct Mail space, the retailers Matalan and Go Outdoors have made share-of-doormat gains in Q4, along with the NHS and ROL Cruises.
Door Drop share-of-doormat has coalesced around the largest advertisers in Q4, with eight of the top 10 recording share gains – most notably Dominos, Farmfoods, Checkatrade, Vodafone and Sky.
Key mail metrics for Q4 2022 can be summarised as follows:
Q4 2022 KEY MAIL METRICS

 

Frequency

Item Reach

Lifespan

Direct Mail

4.4

1.1

7.2 days

Door Drops

3.1

1.1

5.4 days

Business Mail

4.9

1.1

8.6 days

Partially Addressed

3.9

1.1

6.4 days
| | | | | | |
| --- | --- | --- | --- | --- | --- |
| % of ALL Mail… | Read / looked / glanced at | Opened | Retained in the home | Discussed with someone | Prompting a purchase |
| Q4 2022 | 77% | 66% | 46%           | 14% | 5% |
| Q4 2021 | 73% | 62% | 40% | 13% | 5% |
Source: JICMAIL Item Data Q4 2022 n=10,669 Direct Mail, Door Drop, Partially Addressed and Business Mail items
Mail interactions captured by JICMAIL panellists take many forms and range from opening and reading mail, to passing it on to someone else, putting it in the usual place, putting aside to look at later or taking it out of home (amongst a list of many other actions). In addition, JICMAIL captures the industry category and advertiser details of almost every mail item in its 260,000 strong mail item database.
Ian Gibbs, Director of Data Leadership and Learning commented, "Although Q4 has presented some challenging market conditions, it is clear that there is as much appetite as ever from consumers to open, read and discuss their mail. Those advertisers that upped their share-of-doormat in the Christmas trading period have no doubt seen this borne our in their results."
Mark Cross, Engagement Director added, "JICMAIL continues to provide a rich picture of how mail is being interacted with and retained in the homes across the nation over these pressured times, delivering brands a compelling mix of increasing readership, in-home touchpoints and multiple commercial actions to support their campaign outcomes."    
Q4 2022 Results: Mail open, read, and in-home retention rates all improve over the course of the the crucial Q4 trading season in 2022
.pdf 165809
Download
Scroll to top