The Q4 2020 data release has revealed mail is driving commercial impact with even greater efficiency.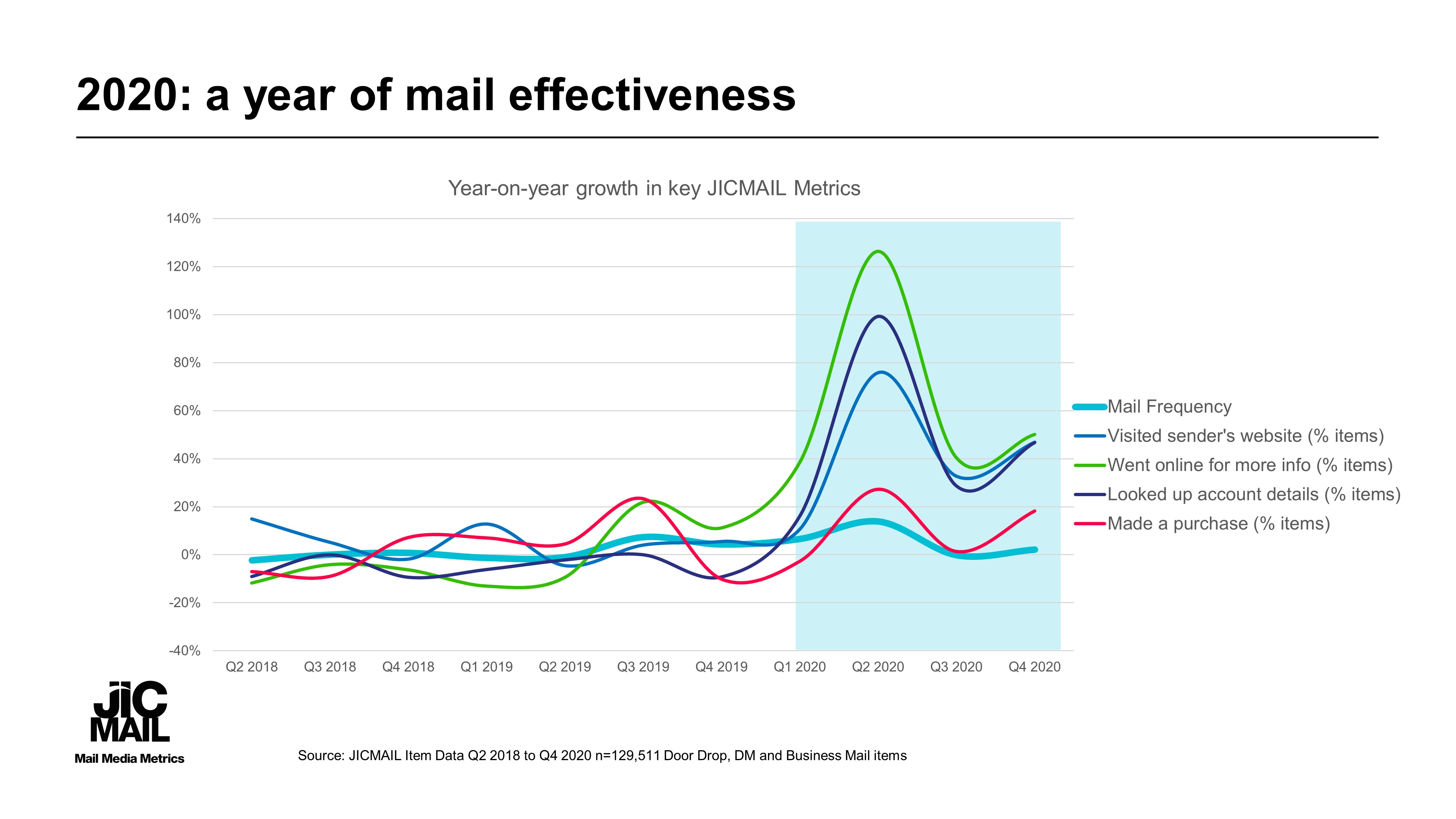 The full range of charts is available to download at the end of this update. 
JICMAIL's diary based data captured from a panel one thousand households every month reveals that:
8.4% of all Ad Mail (including Direct Mail and Door Drops) and Business Mail drove traffic to advertiser websites in Q4 2020, while 5.0% prompted consumers to look up their account details, with both measures growing by nearly 50% year on year.
7% of all Ad Mail and Business Mail prompted a purchase in Q4 2020, representing 19% growth year on year.
Frequency of interaction with mail - JICMAIL's measure of mail exposure- has remained virtually flat year on year for Direct Mail and Business Mail, but consumers have displayed improved engagement with Door Drops with frequency growing 9%. The average Door Drop is interacted 3.06 time per month, Direct Mail 4.40 times and Business Mail 4.88 times.
Frequency of interaction with mail is a cornerstone of JICMAIL's mail exposure and campaign impression calculations. Crucially the rate of growth in mail frequency of interaction has been outstripped by the growth in commercial impact in Q4, meaning that mail is driving effectiveness with even greater efficiency than before.
Mail is also spending longer in the home than a year ago. The average piece of DM is live in the home for 8.1 days before being filed or thrown away, representing growth of 4% year on year. Door Drops have been the biggest beneficiary of improved mail longevity however, with double digit growth of 17% year on year and average lifespans of 6.3 days.
Door Drops containing vouchers and coupons and information about local services were key content drivers of lifespan growth, with the former staying in the home for a week on average, and the latter for nearly 9 days.
As the nation's vaccination program continues to pick up pace, Direct Mail containing appointment related information has seen 40% growth in lifespan year on year, staying in the home for 10 days on average.
Key mail metrics for Q4 2020 can be summarised as follows:
Q4 2020 KEY MAIL METRICS

Frequency

Item Reach

Lifespan

Direct Mail

4.40

1.12

8.1 days

Door Drops

3.06

1.06

6.3 days

Business Mail

4.88

1.17

9.5 days
Q4 2020 COMMERCIAL MAIL EFFECTS (% OF MAIL ITEMS)

General Online Visits for More Information

Visits to Advertiser Websites

Account Detail Look Ups

Purchases

Q4 2019

3.6%

5.7%

3.4%

4.8%

Q4 2020

5.3%

8.4%

5.0%

5.7%

YEAR ON YEAR % CHANGE

+47%

+47%

+47%

+19%
Source: JICMAIL Item Data Q2 2017 to Q4 2010 n=10,434 Q4 2020 Direct Mail, Door Drop and Business Mail items
Mail interactions captured by JICMAIL panellists take many forms and range from opening and reading mail, to passing it on to someone else, putting it in the usual place, putting aside to look at later or taking it out of home (amongst a list of many other actions). In addition, JICMAIL captures the industry category and advertiser details of almost every mail item in its 160,000+ mail item database.
"While JICMAIL has for some years established the case for mail in above-the-line campaigns through the huge numbers of ad impressions that the channel generates, it is encouraging to see how efficiently those impressions are now converting into real commercial outcomes for brands. The accurate measurement of mail effectiveness should be a key concern for all measurement models – from econometrics to attribution models to brand trackers – if the channel is to be credited with effectiveness more accurately." said Ian Gibbs, Director and Data Leadership and Learning at JICMAIL.
Key sector highlights:
Grocery, Retail, Local Tradesperson and Restaurant / Takeaway sector Door Drops were the biggest contributors to the channel's improved lifespan metrics in Q4.
For Direct Mail, financial services and retail have driven growth in consumer mail engagement.
The NHS continues to be one of the biggest movers in terms of share of voice (or share of doormat), with its share of Direct Mail volumes nearly doubling, and its share of Business Mail up 24%.
Mark Cross, Engagement Director at JICMAIL added "These results are a timely reminder of how JICMAIL data is an essential source of insight and campaign data for any planner looking to drive business recovery for their clients. They also highlight how through the onset of the JICMAIL levy this data is available to everyone across the market with no data access cost"    
For more information on how you can get hold of JICMAIL data and use it to plan more efficient and effective mail campaigns, please visit www.jicmail.org.uk or email tara@jicmail.org.uk