Q1 2022 results reveal that mail volumes on the panel have reached their highest level since Q1 2020 – a clear indicator of post-pandemic advertiser confidence in the channel.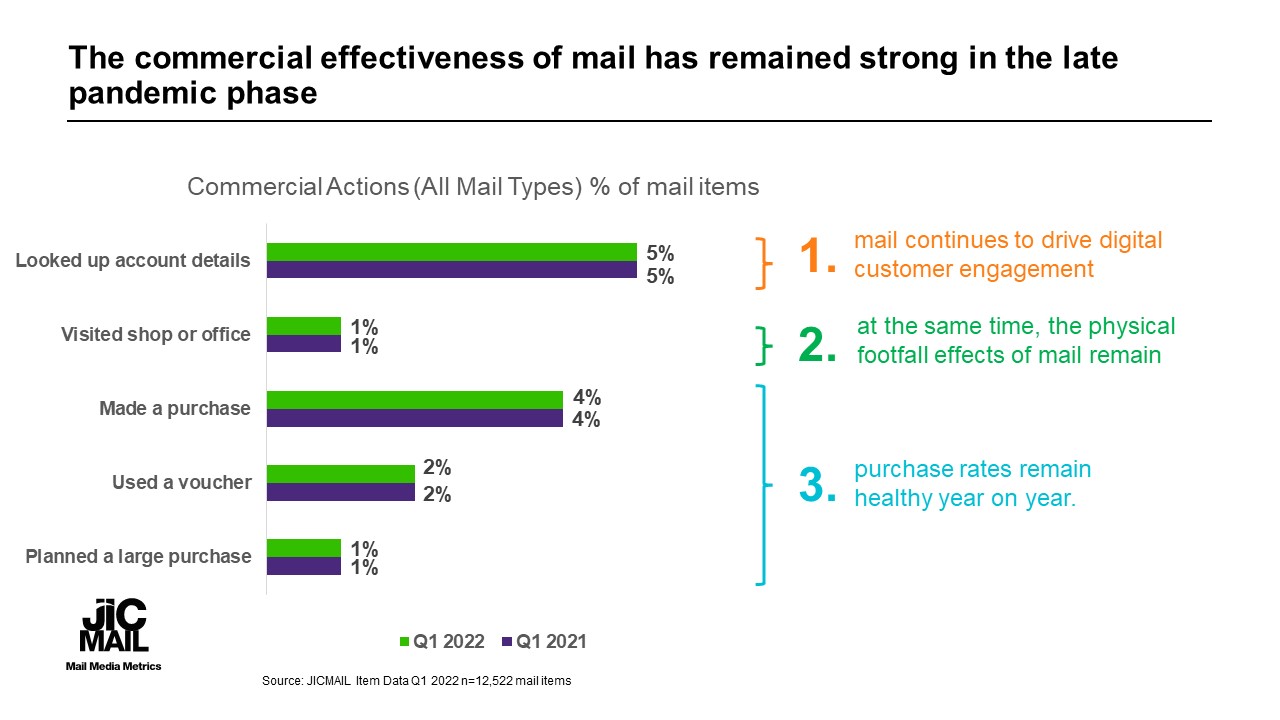 JICMAIL's diary-based data captured from a panel of one thousand households every month reveals that in Q1 2022:
Over 12,500 mail items were tracked by panellists across Direct Mail, Door Drops, Business Mail and Partially Addressed Mail, taking the entire JICMAIL database to just under 230,000 items. Combined with the recent news from Royal Mail's financial results that the volume of advertising mail grew by 30% in the twelve months up to the end of March 2022, there are again clear signs of strong advertiser confidence in the mail channel.
The top ten advertisers account for 23% of all mail volumes in Q1 2022. This is up from 21% a year ago and signals continued confidence in the mail channel from some of the largest marketing budget holders in the UK.
Despite a squeeze on household budgets, challenging trading conditions and an overall decline in marketing effectiveness (as reported by the DMA), the mail channel has continued to maintain the impressive effectiveness benchmarks established during the pandemic. 5% of mail (across Direct Mail, Business Mail, Door Drops and Partially Addressed Mail) prompted consumers to look up their account details in Q1 2022, and 4% prompted a purchase.
Business Mail continues to be the most effective mail channel used to shift the dial on customer experience metrics: 9% prompted account look ups vs 4% of Direct Mail. However, Business Mail has also proven itself to be an effective revenue driver, with the 6% prompting a purchase being a comparable figure to Direct Mail.
From Q1 2022 JICMAIL will report key mail media metrics for Partially Addressed Mail as standard through its data portal JICMAIL Discovery. Partially Addressed Mail (PAM) generates four times as many ad impressions vs mail volumes, and the average piece of PAM stays in the home for 6.6 days on average.
Key mail metrics for Q1 2022 can be summarised as follows:
Q1 2022 KEY MAIL METRICS

Frequency

Item Reach

Lifespan

Direct Mail

4.4

1.1

7.4 days

Door Drops

3.0

1.1

5.4 days

Business Mail

4.8

1.2

9.1 days

Partially Addressed

4.0

1.1

6.6 days
| | | | | |
| --- | --- | --- | --- | --- |
| % of mail driving… | Purchases | Voucher usage | Store footfall | Account look-ups |
| Q1 2022 | 4% | 2% | 1%            | 5% |
| Q1 2021 | 4% | 2% | 1% | 5% |
Source: JICMAIL Item Data Q1 2022 n=12,552 Direct Mail, Door Drop, Partially Addressed and Business Mail items
Mail interactions captured by JICMAIL panellists take many forms and range from opening and reading mail, to passing it on to someone else, putting it in the usual place, putting aside to look at later or taking it out of home (amongst a list of many other actions). In addition, JICMAIL captures the industry category and advertiser details of almost every mail item in its nearly 230,000 strong mail item database.
Ian Gibbs, Director of Data Leadership and Learning added, "The rising cost of living and an unstable geo-political situation doesn't exactly make a fertile ground for marketing effectiveness, with consumer response arguably much harder to come by now than it was even during the pandemic. It's encouraging to see the mail channel continue to maintain its effectiveness therefore – effectiveness that has been rewarded by continued growth in mail volumes as the largest brands in the UK continue to show confidence in the mail channel's ability to deliver on their marketing objectives."
Mark Cross, Engagement Director added, "It is encouraging to see the COVID era uplift in the full 'funnel' effects of mail continue to be sustained. These recent trends in the JICMAIL data provide users with fresh evidence to put to the test in the market. We would encourage users to check through our test and learn toolkit to help inform their test and learn approaches."    
Scroll to top