JICMAIL has published the first wave of its new Response Rate Tracker, adding a powerful new data-set to JICMAIL's suite of mail measurement tools. This pilot study is designed to provide response benchmark data for any business or organisation pitching, planning or evaluating a mail campaign.
11% vs 1%: JICMAIL releases definitive view on warm vs cold direct mail response rates
JICMAIL has released results from its inaugural Response Rate Tracker research, which for the first time has enabled the industry body to assess how responsive consumers are to acquisition vs retention based marketing strategies with mail. Response data derived from over one thousand campaigns has revealed an average warm mailing response rate benchmark of 10.9% and a cold mailing benchmark of 1%.
In a climate in which efforts to boost levels of customer loyalty and engagement is taking on increased significance in the face of a challenging economic environment, understanding the response of known customers to advertising mail is all the more important. The 10.9% response rate reported for warm direct mail highlights the value of speaking to current customers in the mail channel, when the ability to target using third party cookies is waning in an era of heightened privacy compliance. These findings come from a significant new study from JICMAIL, which adds a powerful mail measurement data-set to the industry body's existing suite of data tools.
Practitioners should be wary of simply regarding warm mail as a more effective channel than cold mail however. No brand grows without acquiring new customers, and understanding the effectiveness of the mail channel in driving acquisitions is critical to campaign planning efforts. A 1% response rate of cold mail compares favourably to that seen by many other channels. A blend of warm and cold is therefore critical to success.
Based on the results of 1,017 anonymised campaigns provided by six key industry players (Join The Dots, Epsilon Abacus, Ginger Black Analytics, Sagacity, The Letterbox Consultancy and DBS Data) JICMAIL's first release of its Response Rate Tracker is billed as a pilot study. This proof of concept study is designed to galvanise interest from the industry, expanding the pool of submissions and increasing the representation of benchmarks across industry sectors and mail types.
The Response Rate Tracker also reports on the average Return on Investment (ROI) of warm and cold direct mail, revealing results of 13.5 and 4.4 respectively. Average Order Value (AOV) and Cost Per Acquisition (CPA) benchmarks have also been made available across four different industry sectors – retail, finance and insurance, medical and charity. Consisting of 83% retail and online retail campaigns, the database is currently skewed towards this sector, but future releases should look to redress this balance.
By providing campaign-centric response rate benchmarks, JICMAIL has been able to supplement the output of its panel-centric metrics, in which a sample of 1000 households a month self-report their interactions with, and response to, mail. An average Response Rate Tracker figure of 5.1% across warm and cold mail combined, is closely aligned to the 5.6% response rate reported by the JICMAIL panel, providing a powerful validation exercise for both independent data sets.
The Response Rate Tracker is designed to assist planners and mail practitioners in setting targets and KPIs for mail campaigns. The benchmarks themselves are a starting point for target setting which should then be iterated upon using a unique set of brand, market and consumer factors that acknowledge the nuance of individual campaigns with different objectives.
Key results revealed by the Response Rate Tracker are as follows: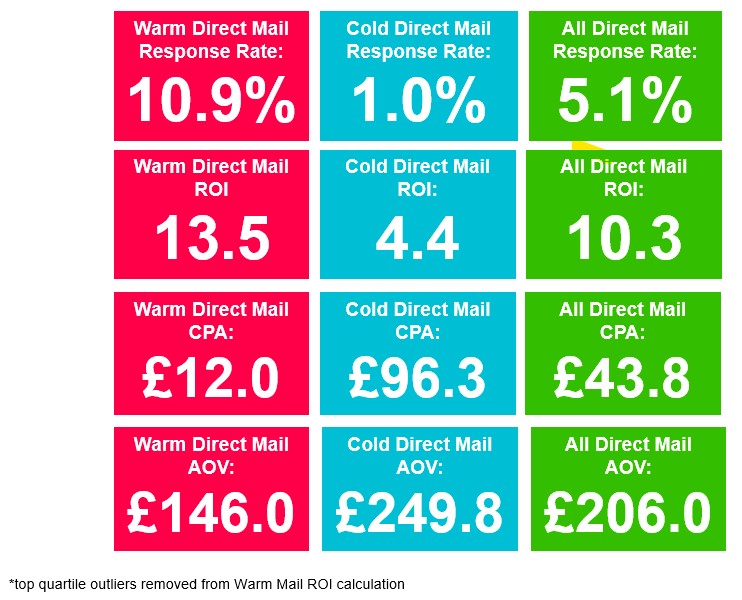 Ian Gibbs, JICMAIL's Director of Data Leadership and Learning says: "We're delighted that our cohort of trusted partners has chosen to participate in the first release of Response Rate Tracker. The findings have provided a great confirmation of the existing response numbers reported by our long-standing panel, while at the same time enabling JICMAIL to offer a fresh perspective on the power of warm and cold activity for the first time.
Mark Cross, JICMAIL's Engagement Director says: "These new response metrics are the start of what will become a growing pool of essential benchmarks and reference points for all campaign planners. They starkly exceed conventional digital response metrics and add a valuable layer to existing JICMAIL data, together creating new discussions on how performance can be improved through the inclusion of mail in the omnichannel mix."
The six contributing organisations were:
Join The Dots: An award-winning media agency, committed to working in a transparent, sustainable manner to help clients meet their acquisition goals, regardless of channel or medium.
Epsilon Abacus: Epsilon (part of Publicis Groupe) is a global leader in outcome based marketing, helping brands draw a clear line between their marketing investment and real business outcomes. They launched the Abacus Alliance in 1998, introducing the cooperative database concept to the UK. Since then they have helped hundreds of retail brands and charities use the power of transactional data to improve their direct marketing effectiveness and return on investment.
Letterbox Consultancy: An independent and impartial door drop agency, working with companies across the UK to target the distribution of unaddressed material in the most efficient and cost-effective way possible.
Sagacity: Helping organisations maximise the value of their customers by joining the dots between data, people, policies, processes and systems.
Ginger Black Analytics: Combines expert analytical insight delivered by the Ginger Black analytical engine, with access to data co-operatives and publishers to allow for the best direct mail responses to your campaigns.
DBS Data: DBS Data helps organisations better understand their customers, ensure their data is accurate while delivering the best results on their direct marketing campaigns.
 JICMAIL would like to hear from any organisation wishing to contribute data for the next phase of release in late 2023. If you would like to submit your organisation's response data to this powerful new dataset from JICMAIL, get in touch today.